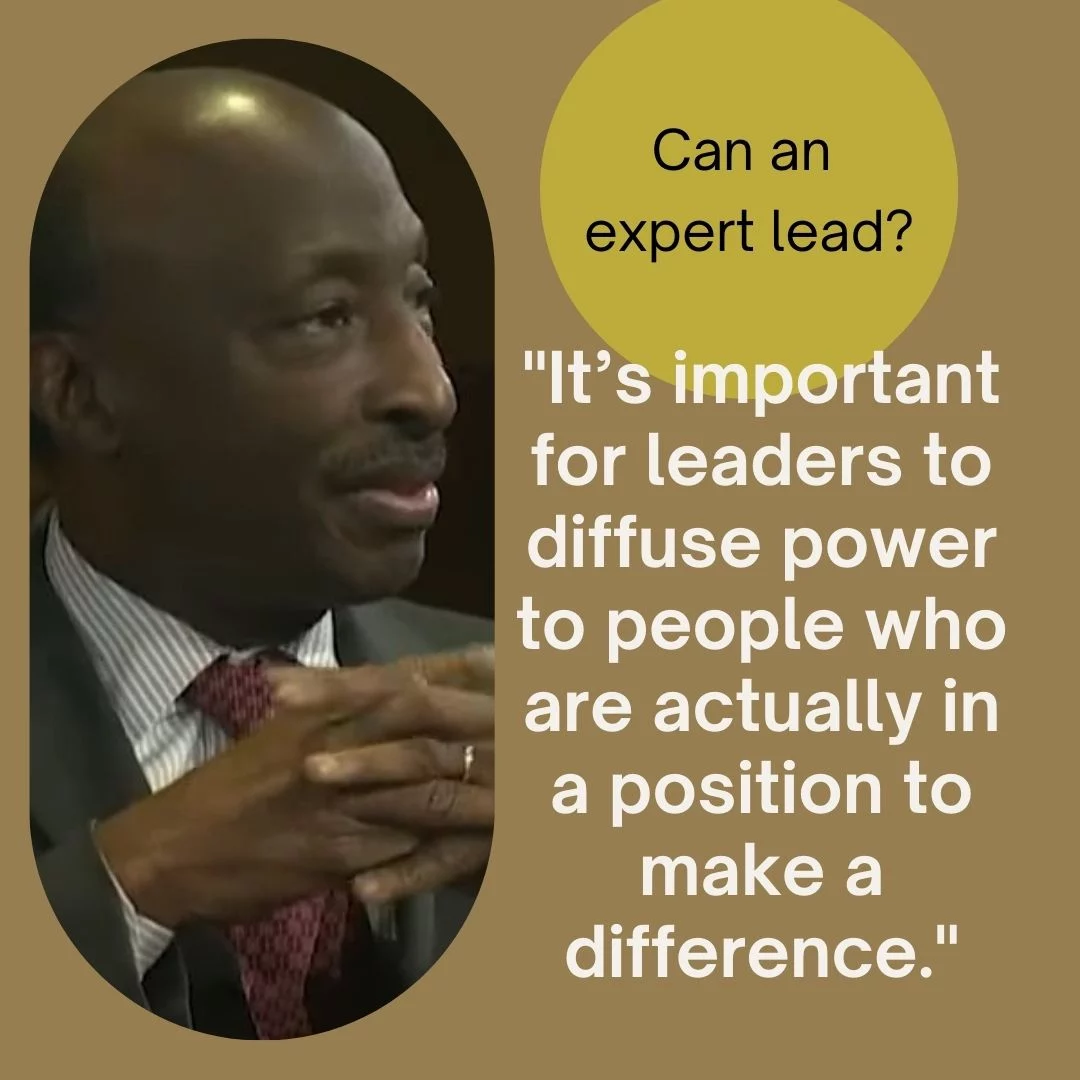 A challenge for business leaders today is ensuring that the right talent is in place for the future. Often the search is for someone to manage, and lead, a team. Does it make sense to fill that role with someone who is an expert in the primary work of that team?
"I suppose leadership at one time meant muscles; but today it means getting along with people" – Mahatma Gandhi
What was.
We used to advance experts into the role of manager, based on that expertise. This still is commonplace.
We expected that each expert would impart their knowledge in a way that resulted in higher productivity throughout the team they now manage. We still expect that.
We expected managers to lead a little, but to mostly allocate, manage and review work.
What's changed?
More than ever before we need our managers at all levels to lead better. Skills such as empathy, courage, a desire to grow as a leader, and emotional intelligence are required for what teams need, and even demand, now: learning, innovation, equity, empowerment, psychological safety, appreciation, meaningful work, and more.
Does advancing experts into management roles still work?
In my books I include words that may initially read counter to advancing an expert. Consider each to make the best decision. You may advance an expert or you may not, based on considering these points:
If an individual has no interest in building up others, they should not be in a manager role (at any level).
It's always a smart organizational strategy to offer advancement and achievement tracks, so that expanding in one's role or making a lateral move is never perceived in your workplace as lesser than a positional rise.
Select a leader based on the whole person and their potential in managing work and leading people, and not based solely on their technical expertise.
A role model.
Let's look at one role model who was, and is, a legal expert. He is also an inspiring and empowering leader.
Ken Frazier, Executive Chairman and former CEO of Merck & Co., or MSD outside of North America.
Frazier initially held the role of General Counsel for Merck. He was CEO from 2010 to 2021. He's a legal expert. He is admittedly not a scientist.
Merck is a scientific business with a science-focused purpose: "We use the power of leading-edge science to save and improve lives around the world." Frazier could not lead this company well without the leadership qualities I mention above.
In a Nov 2022 video from Cleveland Clinic's Ideas for Tomorrow (watch for about five minutes starting at 17:13), Frazier talks about how he transitioned from expert to CEO.
In order to transition from expert to CEO, Frazier asked and learned the business with an eye on leading that business, and without intention to manage work or make decisions for those closer to the work they do. He also had a mentor for leadership; he was placed in a role where he walked beside the CEO before him.
Frazier explains in a 2018 interview with the Harvard Business Review:
"It's important for leaders to diffuse power to people who are actually in a position to make a difference. I'd love to convince Merck's people that they already know what to do—that they don't need to look up to their leaders for answers."
Yes! An expert can make an excellent leader of people.
Frazier is wired as an expert. For example, he skipped several grades and was a first year attorney by the age of 23 (min 22:26). He remained in the legal profession as General Counsel of Merck before becoming CEO at the age of 55. What is it about him that also embodies the qualities of a leader? My guess is that his mastery mindset includes an open and curious mind. He seems to have emotional intelligence, including an ability to not take himself too seriously while taking business leadership seriously.

Your best next step
For "Your 1 Best Next Step," become more aware of potential. if you are an expert, ask yourself if being a leader inspires you. As a leader, how might you notice the potential of experts in your workplace?