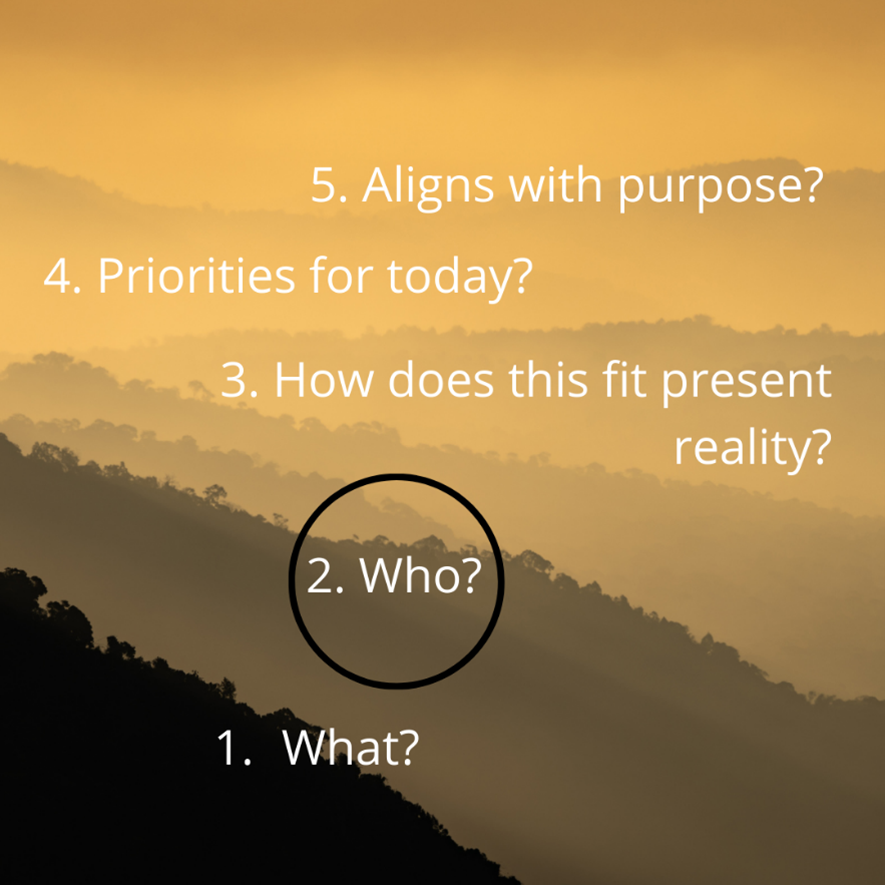 You're considering your day. How do you ensure that each day achieves or moves you closer to what you want? Are you among the right people? Are you asking for help?
You may plan your days many days or weeks in advance, such as to block out times for important meetings, events, or trips. I do this, and I also block out writing time each week. The daily practice of considering each day, the night prior, the morning of, or both (I do both), is still important. Critical even. It's shorter-term, more tactical "best next steps" and—I think you'll find this to be most important—strategically positioning your mind to make the day the best it can be.
In your daily practice, you first answered, what do I want? This "want" doesn't have to be something that only benefits you. As leaders our lives are aligned with what is best for the organization (re-confirm this regularly!).
>> Now, answer, who can serve you and who can you serve on your journey of being-doing-having what you want?
You've asked for me to get more personal so here goes.
My own daily practice – for "who"
I'm a typical entrepreneur with "freedom" high on my list of what I want. Serving others with what I have learned, what I create, and what I am still learning is also high on my list. And, as an entrepreneur, capital for fuel is a challenge. I cannot serve others well when our investments in innovation and learning exceed the cash from profitable operations for too long.
I've added to my challenges by living in a smaller metro location, still recovering from having the wrong people around me for too many years, and hesitating to ask for help from people that would serve me so that I can continue to serve others.
How this translates to "who" in my daily practice is this: I spend time each day to—
Serve my circle of industry and thought leaders by sharing their message, and at times offering meaningful connections;
Ask for help to expand my reach via interviews, such as for my next book, to stay current and learn social marketing, etc.;
Gain relevant visibility via being or planning for being a podcast or livestream guest, and/or video or phone meeting, speaking outreach and engagement;
Team huddle for our continued software development, which includes serving the team and asking the team for help;
Connect with those who can help with capital requirements, including customers and advisors.
My daily practice, which I started only this year on a daily basis, has aided my progress! In addition, how I feel at the start and end of each day has improved. Keeping my view on who I can serve, and what I need most to move toward my desired future scenario, pulls me quickly through any missteps.
Your turn – Who can help you? Who can you serve?
Here's a quote I revisited recently that may serve you in getting started:
"The desire of gold is not for gold. It is for the means of freedom and benefit."
— Ralph Waldo Emerson
If freedom and benefit are what you want, what would progress toward these objectives look like? Who might you reach out to today to help you now or in the near future? Who might you serve?
If you had determined that it was "having gold" that would directly lead you to the freedom and benefit you wanted, who might you identify to help you get gold? Who might you serve?
Perhaps what you want is to have money, time, knowledge, etc. in order to serve others more. Who can help you and who might you serve?
When choosing your "who," align what you want with what they want.
Aligning what you want with what your "who" wants will always be a work in progress. Start now. Perhaps start with your team. How might you align what you want with what they want for themselves, beyond the shared business goals?
For your "Your 1 Best Next Step," before your day starts tomorrow, revisit what you want and then take 5 minutes to consider who can help you and how you might serve them (and others). Work on your calendar to reflect this.