In this Leadership series we are talking about connecting—connecting to people, connecting people to the business results you want, and getting those results.
In Step 1 you selected up to 3 of the most critical strategic themes or objectives. Now you will prepare to share these objectives or themes with those who need to act in order for Strategy to be executed.
I've decided to share with you how our company is taking these same steps. I hope this helps clarify the process…
For Abrige Corp the most critical objectives fall into these themes:
"Get Visible!" & "Systematize Everything." I've logged these into our STRATEGY application, below:

Note that I assigned my Themes to Balanced Scorecard "Perspectives" In our this top-level Strategy I assigned "Get Visible!" to Learning/Innovation, Customer Satisfaction and Financial and assigned :Systematize Everything" to Learning/Innovation and Internal Process.
Your themes and format may be different and that's fine. The steps to take to select what is important, communicate it, and get it, are what this blog series is about. You can follow my steps to get the results you expect.
For this short time frame of three months you may have only one objective to each theme, but you are allowed more.
For our "Get Visible!" Theme, we have some learning and innovation needed. We will select, learn…and use…customer attraction and engagement tools that make us visible. Since we have a three month timeline we know what we select must be easy to use and that the output will need to be compelling.
This is one of a handful of objectives for out "Get Visible!" Theme…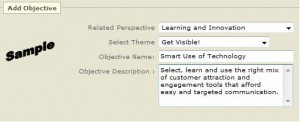 For our "Systematize Everything" Theme, one objective fits well with our Get Visible! Theme, and in fact without it, if we find what the front line needs to win customers, but our tech team is busy with other projects, we might not accomplish our goals. So under "Systematize Everything" we have this objective (among others):

If you would like to view the full top line 3 month Strategy, just send me an email. 
Once you have laid out your Themes and Objectives you will have a Map of your Strategy.
Make sure you select only what you will diligently track and adjust to. In this case, you'll communicate the critical themes and objectives BEFORE you assign metrics. Do this so that you can use the measurement selection process as a means to build a connection with your people. If you determine the metrics without first communicating what you expect in a grander, more visually-inspiring way, you'll get stuck. Have you ever reported a number, say a sales number, and then changed it later? Numbers and other units of measure tend to stick in one's mind. You send them straight into the proverbial forest and bypass constructive thought and commitment to a goal that the number or metric is only one part of.
Remember the goal is positive change within the next three months. Follow each step and you'll get there!
P.S. For those looking for a complete Strategy Mapping discussion following the Balanced Scorecard methodology, you will know that this post does not cover it fully. It is not intended to. If you'd like more complete training on this subject, feel free to contact me directly.