A goal of the Collaborative-Action blog is to bring practical, do-able steps that will lead to performance management that works. Following is the first in a series of interviews to meet that goal.
Last week I had the pleasure of interviewing Professor Andy Neely, of University of Cambridge, Cranfield School of Management. You will find us both quite excited about the opportunity to add value, as we focus on translating data into information and information into knowledge. Or as Professor Neely shows in the diagram below, "From Hindsight to Insight."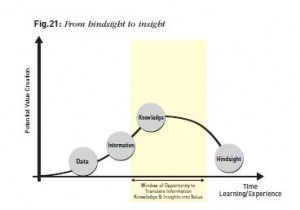 Click to play
This brief interview was entirely unscripted; it is a conversation chock full of immediate take-aways for CEOs, and all executive, division and department heads including Human Resources and Organizational Development. I look forward to your comments about this interview and any questions you may have that can be answered in future posts, interviews. You can also
email me
.