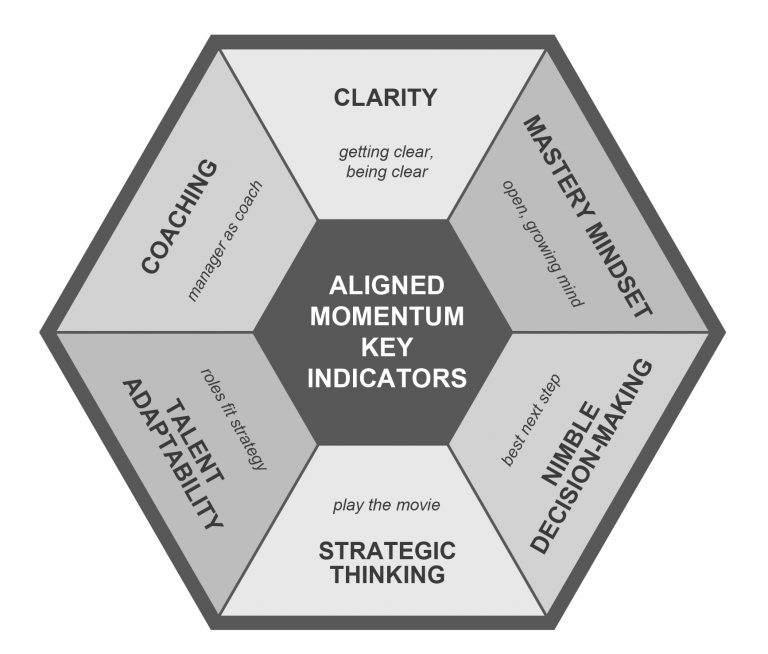 Measure Readiness for Extraordinary Momentum and Performance Breakthroughs
Executing a plan requires alignment. Executing on time requires momentum. Executing brilliantly, including shifting quickly when the facts change while staying on track with strategic objectives, requires Aligned Momentum.
Aligned Momentum Key Indicators help you track progress in your Pivot from an incremental, traditional and/or rigid business culture to a culture with Aligned Momentum. Aligned Momentum leads to brilliant execution of strategy.
Aligned Momentum Key Indicators
To support brilliant execution of strategy
1) Clarity: Getting clear, being clear.
2) Mastery Mindset: Open, growing mind.
3) Nimble Decision-making: Best next step.
To prepare you for a better future
4) Strategic Thinking: Play the movie.
5) Talent Adaptability: Roles fit strategy.
6) Coaching: Manager as coach.
Clarity
– Are you and every member of the leadership team clear about your vision and the strategy to realize that vision?
– Can you describe what success looks like?
– Are you ready to be 100% clear in communicating vision and strategic objectives throughout your organization?
– Do you receive feedback that confirms that employees have received the message clearly?
– Are you certain that they know their role in realizing the vision and understand how they can execute their part brilliantly?
Mastery Mindset
– Do employees approach their work, interact with others and engage in training to continuously improve their strengths?
– Do they step up to apply their strengths, in ways that will require new learning, to best serve the organization's goals, purpose and values?
Nimble Decision-making
– Does the organization's structure, delegation and culture afford decision-making, or initiation of change, at the level or area that will be most impacted?
– Are employees sufficiently clear about how their role aligns with the organization's vision and strategy, and current priorities and initiatives, to enable them to make effective daily choices, judgment calls and decisions?
Strategic Thinking
– Is every individual trained on how to look ahead and from a strategic viewpoint before taking their best next step?
Talent Adaptability
– Are leaders and hiring managers skilled at predicting future talent requirements?
– Are individuals and teams across the organization able to collaborate, and share talent, effectively?
Coaching
-Does every employee know that their manager (or lead) has their back and wants them to be successful?
– Are people in positions of authority given the training (and coaching) needed to assess and grow their strength as a coach?
When Aligned Momentum Key Indicators are strong and consistent across the company, execution of strategy will naturally strengthen. For many, continued focus on a culture of Aligned Momentum creates a natural Pivot from "ordinary" to "extraordinary" business momentum.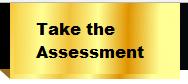 If you've used a code from the book you can request a debrief call. Don't have your copy of The Pivot: Orchestrating Extraordinary Business Momentum yet but want to take the assessment? That's fine. Leaders of and within an organization will find value in reading the assessment questions and seeing the resulting chart which is emailed immediately after completing the assessment.
Set aside 8 uninterrupted minutes to take it.