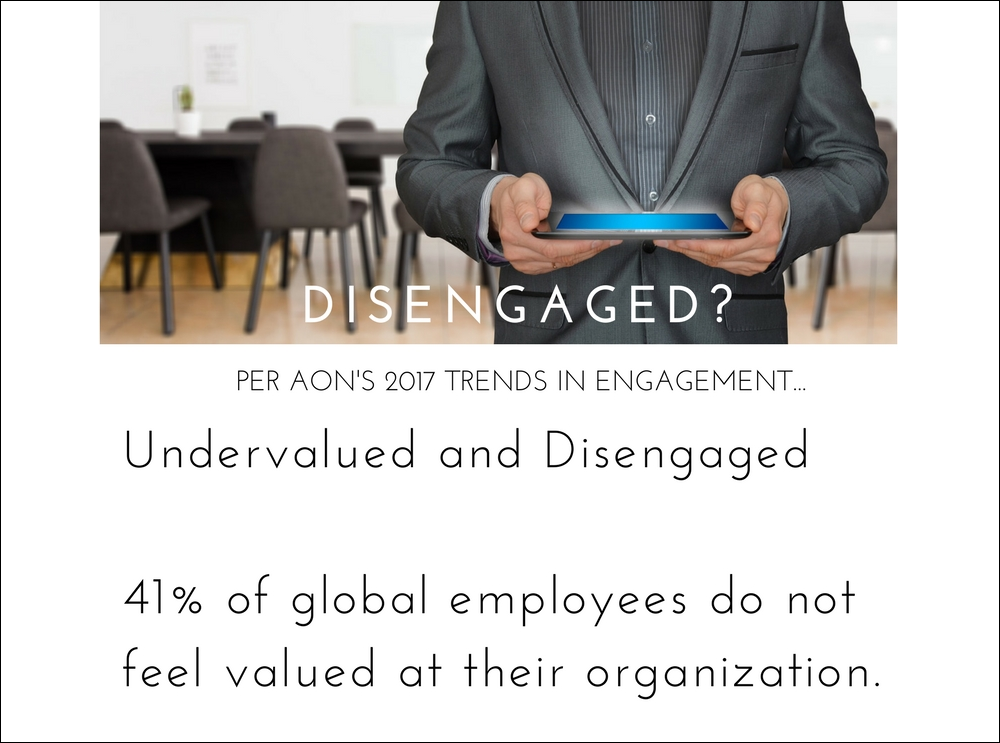 Those of you who know me or are getting to know me… understand that I am all about business vibrancy. In my terms, that translates to a nimble organization, continuously building its business value, and a great place to work. An organization with these traits has what I call "Aligned Momentum," which I show in the visual above this post and write about in my book (you can find an excerpt here).
For over 20 years the average results from employee engagement surveys have shown a rate of disengagement at over 30%. Aon's recent 2017 Trends in Global Employee Engagement reports that 41% of employees are disengaged and feel undervalued.
What this reflects, at least in part, is a lack of empowering employees to initiate change—a critical step in a Pivot toward Aligned Momentum.
The Aon's 2017 Trends in Global Employee Engagement, uncovers two key observations with regard to Senior Leaders: perceptions of Senior Leaders are dropping and, most importantly, Senior Leaders' impact on employee engagement is increasing.
"Employees globally are less confident in Senior Leadership, especially in their ability to create excitement about the future of the organization. This is not a big surprise: organizations large and small are increasingly in a state of near-constant change, trying to adapt to an increasingly volatile business environment. Employees may not know what the future holds for their organization or their role in particular. In most cases, Senior Leaders bear the brunt of most of the anxiety employees experience about change. When you consider that half of employees globally feel that change initiatives are not well managed, it's easy to see how more broad perceptions of the leaders managing the change would drop."
Are we (individuals in positions of authority) still seeing "leadership" as figuring out everything at the top and then directing others what to do, when we think of it, and in terms of what and too often without the (strategic) why?
Even that sentence is too much. You must be exhausted. And—guess what—your employees aren't feeling inspired or valued, resulting in a lack of engagement. You will also find that incomplete communication results in a lack of alignment between what one does in their role and what you need them to do to brilliantly execute strategy.
I bet your managers are exhausted with "performance management" because even they are not clear about the strategic direction and how they fit…and if they are valued. They are trying to manage work because they don't have what is needed to positively influence people. There is a better way. The way of Aligned Momentum.
If you'd like to take a free business culture "Pivot/AlignedMomentum assessment"—just answering the questions will give you insight—do so here.