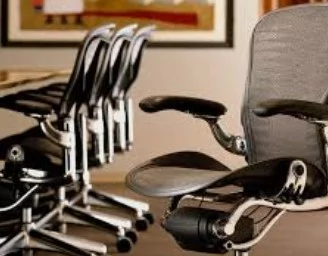 We want to trust our leaders. We need to trust them if we are to align with the direction they have set for the organization. When trust breaks, alignment is lost. Both are difficult to re-gain.
A furniture company CEO was recently the unfortunate star of a viral video displaying trust and alignment issues. Plus lost momentum. What might she do now?
Viral Fallout: Unraveling Trust and Alignment in a Furniture Company
An April 19, 2023, YouTube video of Andi Owen, CEO of high-end office furniture company MillerKnoll, went viral. In the video, which was recorded via zoom and sent to internal employees, she was trying to motivate employees to sell more and justify the company's decision to withhold bonuses from employees who had been counting on them.
"Consider your words. Will they support momentum toward the vision? Or will they create a stall, or worse?"
The video went viral due to the tone near the end. She apologized for her tone, which was shared via a new team on YouTube here.
There's so much more than hurt feelings caused by a missed bonus and CEO's tone when addressing employees' concerns. Here's the perception:
Loss of momentum in the company
Employees seemingly unaware that their bonuses were at risk.
Unmet objectives indicating a lack of alignment.
A parent-child style of communication, indicating top-down management and a likely lack of trust leader to everyone else and of the leader.
The CEO received a bonus but the employees are being told they won't, further diminishing trust.
The first point is a fact. The pandemic hurt the company and they've not yet recovered. The next three are perceptions – how her message lands. The last point is a fact (as of this newsletter, the final decision about employee bonuses hasn't been made).
Rebuilding Trust: Strategies for the CEO's Next Move
If Ms. Owen's true character and intention are different (significantly better) than the perception, what might she do now?
In a  Ms. Owen states, "We have got to unify, we've got to talk. We have to have respect and kindness and we have to listen." She also says about herself, "I've always approached any job I've ever had as a generalist and an observer of human nature."
Lessons in Emotional Intelligence: Examining the CEO's Approach
Are you wondering what she's done to observe human nature in her workplace? Is she modeling respect and kindness? Has she taken positive actions? Or has she only focused on financial returns, which seemingly continue to decline? What do you think about her level of emotional intelligence?
Follow through on who you intend to be and what you say you'll do.
If the CEO in this example had spent all of 2021 prioritizing the vibrancy of the workplace culture, she would have strengthened trust. Even with the polarizing impacts of the pandemic on the workplace, being an empathetic and open-minded observer and listener (not merely "an observer of human nature") very likely would have served her and her organization.
Trust as the Bedrock: Nurturing Alignment and Momentum
If you've learned anything about alignment and momentum from me, you'll understand the importance of trust. Trust is the foundation for safety and empowerment. Alignment is impossible without trust.
To regain trust now, she may need to tighten her own belt and performance measures. She could also meet with employees one-on-one, implement more transparent communication channels, and offer alternative forms of recognition and appreciation.
"Do what you say you will do. Act on your stated intentions. Live every day in a way you want to be remembered."

Your best next step
For "Your 1 Best Next Step," check in with your intentions and your actions. Be in alignment with yourself, and then lead for alignment from others. How will you build more trust and alignment with your team?